---
Functional Grammar: Making language come alive for English language learners with Libby Baker, Literacy Consultant ACT
Making language come alive for English language learners was the title of a three hour, online professional learning session and workshop presented by ACT based Literacy consultant, Libby Baker on Saturday 28 August.
As the title of the session suggests Libby linked Functional Grammar, Traditional Grammar, the Australian Curriculum, the Literacy Learning Progressions and the EAL/D Learning Progressions with how teachers can support English language learners to engage in the curriculum, increase their knowledge and usage of English grammar and as a result improve their educational outcomes.
Through her delightfully fresh and engaging presentation style, Libby used quality literature to explore the grammatical structure of English from a functional perspective.
A key 'take-away' from her presentation was the colour coded approach she uses to help teachers and students to understand the function of words and groups of words in a clause, sentence or within a text.
All participants had the opportunity to refresh, renew and challenge their understanding of the functions of grammar as part of the field, the mode, and the tenor of a text. Activities in the session enabled participants to unpack the teaching and learning of grammar through the application of a conceptual framework and engaging collaboratively in tasks to classify words and groups of words such as verbs and noun groups.
Check back for a video recording from this workshop soon!
---
The Role of Home Languages in Mainstream Schooling – 3 June 2021
On Thursday 3rd June 2021, about 20 of us gathered at the beautiful Ainslie Primary School Library. A cool fact – this school building was designed by the same architect who designed Old Parliament House and the Hyatt Hotel, so there was a nostalgic feel as you walked through – like you had stepped back in time to your own primary school days.
Dr Mandy Scott – Honorary Lecturer at the School of Literature, Languages and Linguistics at the ANU and the Convenor of Canberra Region Languages Forum (CReLF) – led us through an interesting talk on how we can acknowledge and build on the skills in home languages that children bring with them to the classroom. She reviewed recent studies that highlighted the complexities around words like 'multi-lingualism', 'bilingualism', 'translanguaging' and even 'pluralism' and what these may look and sound like at home and in the classroom. To find out more please refer to her PowerPoint at: bit.ly/atesol21
A lot of practical strategies were shared. I look forward to implementing a 'Language Club' at my school, where I can facilitate more parent involvement by inviting them to share a game, read a book, show photos of their country and/or share their favourite song in their native language.
Ultimately, the message for all teachers was to continue doing what we do best, but to consider a 'multi-lingual' lens.
A big thank you to Dr Mandy for her time and professionalism and to Ainslie Primary school for hosting.
Janica Morella
EALD Teacher
Sacred Heart Primary School, Pearce.
---
2021 Annual General Meeting – 25 March 2021
The AGM this year was held at the National Museum of Australia and included a professional learning seminar focused on the education programs and resources the NMA has developed specifically for teachers and learning. There was a lively discussion about the Museum's online resource bank Australia's Defining Moments Digital Classroom and its use in schools and adult learning contexts!
Sixteen members attended and voted in a new Committee for 2021. ATESOL ACT's President Helen Moore presented her report for 2020, which can be read here: ATESOL ACT 2020 AGM President's Report.
In a brief General Meeting on the same day, 15 members voted and passed motions to amend the Constitution and award two Honorary ATESOL Life Memberships. Honorary ATESOL Life Membership was awarded to Jennifer Mayers and Lesley Cioccarelli in recognition of their many years of dedicated and extraordinary service in a number of roles.
The constitutional amendment updates the constitution to include the option for remote or digital interactions, making it possible for Committee business to continue in an efficient and effective manner in the new digital environment.
---
Exploring the Many Voices of Australia Through Literature
18 February 2021
On the 18th February 2021, it was very exciting to meet face-to-face for our first annual ATESOL ACT event. About 30 of us met Rowan Simpkin at the National Centre for Australian Children's Literature (NCACL) at the UC Library, where she enthusiastically introduced us to their free database, that includes every children's book ever published in Australia (in every edition).
This includes the Indigenous Resources Database which celebrates the rich culture of the Australian Aboriginal and Torres Strait Peoples by providing a diverse range of books and related information that supports teachers, librarians, parents, care-givers, home schooling groups and others working with young people.
Rowan also shared Culturally Diverse Database (CDD), where they have identified over 340 culturally diverse books, representing over 66 languages (and dialects) created for young people from early childhood through to late secondary. It is particularly useful to teachers addressing the Australian Curriculum and the Early Years Learning Framework (EYLF) and is also freely available from the NCACL's website.
Not only is the collection culturally diverse, but also there is a wide range of storytelling genres and non-fiction presentations to engage and inform the reader. Some key concepts include: Friendship, peace, migration, racial conflict, social justice, respect and many more….
Thank you Rowan for introducing us to the wonderful databases and for allowing us to physically touch the books with the supporting author notes and examples of their writing process.
Teachers can also organise either an incursion or excursion to share the writing process with their students. For further information email: info@ncacl.org.au or phone 6201 2062.
Report from Janica Morella, ATESOL Committee member
---
English for Adult Migrants – Future Directions
A WEBINAR EVENT
Learn about the Commonwealth Government's vision for English language provision for adult migrants
| | |
| --- | --- |
| | Presenter Alison Larkins was appointed in late 2019 as Commonwealth Coordinator-General for Migrant Services. Her role is to work closely within the Commonwealth and State/Territory governments, industry, and the community sector to drive improvements to employment, English language, and broader settlement outcomes, and through this work, to promote the contribution of migrants, refugees and humanitarian entrants to Australia. |
| | |
| --- | --- |
| | Experienced AMEP teachers Jakki Cashman (ATESOL ACT) and Skye Playsted (Queensland) provided brief responses, followed by audience questions. |
The webinar recording and report is now available on the VicTESOL website:
This webinar held on Wednesday 11th November 2020 was h
osted by the Australian Council of TESOL Associations (ACTA) in partnership with VicTESOL and ATESOL ACT.
---
The Refugee Experience – Resources for Teachers
A WEBINAR EVENT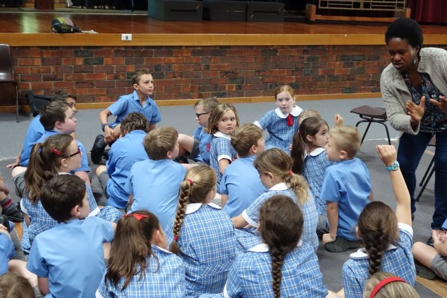 'Refugees' describes the situation of people, but it doesn't define who they are.
Australia has many different refugee communities.
Whether you are looking to learn more about refugees,
you have a friend from that community,
or you are teaching refugees and/or other students,
the wealth of resources on the Refugee Council of Australia's website
is there for you.
Our guides at this event on 28th October were
Dorothy Hoddinott, AO, Ambassador No Child Left Behind Campaign 2020
and Samuel Dariol from the Refugee Council of Australia
The webinar recording, links to resources and other material is now available on the VicTESOL website:
A collaboration between the Australian Council of TESOL Associations (ACTA),
the Refugee Council of Australia (RCOA), ATESOL ACT and VicTESOL

---
The Dictionary of Invisible Culture – 29 August 2020
The Dictionary of Invisible Culture: Language to explain the confusing and complicated
On Saturday, 29 August, 2020, around 70 participants from across Australia were treated to a fascinating online presentation by Dr Lauren Sadow of her PhD work, The Australian Dictionary of Invisible Culture for Teachers.
In this practical, skills-based workshop, Lauren began by highlighting the cultural complexities of defining everyday English words, such as 'marriage' and 'family'. We worked together in small 'break-out' spaces to attempt to define these words in simple ways – an activity that promoted much discussion and a realisation that words we think of as easy to explain and understand are, in fact, loaded with cultural bias. Lauren then introduced us to her Dictionary – showing us how to use common English words that translate clearly into other languages to paraphrase and explain these complex cultural concepts.
The 3-hour workshop was thoroughly enjoyable and thought-provoking, and provided all participants with a useful language toolkit to use in our classrooms to support a greater understanding of Australian culture.
Comments from participants:
Lauren was an engaging presenter and I really enjoyed the online format. The chat rooms were amazing. Thank you so much.
Very interesting to learn how we can talk about complex concepts with beginning language learners using standard translatable English.
Thought provoking, sound academic base, practical and immediately applicable strategies. Great mix of content/activities and very good use of Zoom/on-line learning environment
I enjoyed the work that went into creating the smaller chat rooms. I found these very beneficial. Listening to others and being able to work towards a common definition or goal was really helpful for me to understand how to break content down for my students.
I would recommend this to all of my peers at my school as we have such a large percentage of EALD students.
– report by Lis O'Daly
Lauren Sadow completed her PhD at the ANU in 2019, creating The Australian Dictionary of Invisible Culture for Teachers. Her research focuses on the semantics and pragmatics of language, and how invisible culture can be better incorporated into both language classrooms and dictionaries for language learners. She works as a sessional lecturer at the ANU, teaching Cross-Cultural Communication.
Click here to access the slides and recording from this event.
Elephant image: https://en.wikipedia.org/wiki/File:Elephant_legs_illusion,_variant_of_Roger_Shepard%27s_L%27egsistential_paradox.png
---
Share Your Best Lesson – 15 August 2020
Expert EAL/D teachers presented strategies that they have found particularly successful with their school-aged and adult learners in specialist and mainstream classrooms.
On Saturday 15th August 2020, ATESOL ACT hosted (on Zoom) a fabulous PL called 'Share Your Best Lesson'. Once again, we had participants from all around the country, and even more fabulous was the inclusion of Claire Thevenin-Smith, presenting live from Jordan, sharing her personal experience of teaching students in the Middle East.
Other insightful and practical presentations were shared to give EALD teachers further strategies around the following subjects:
Language Maps (Dr Mei French)
Dictation for All (Diana Dixon)
Delights of using pop songs in the classroom (Lis O'Daly)
In between these presentations, teachers from all sectors and ages were then given the opportunity to be in a 'break-out' space to further discuss the use of these strategies in their own contexts. It is always interesting to hear stories from the various classrooms and how we can adapt our new learning for our own students – from young children to adult learners.
We also had a Q&A led by Dr Maya Gunawardena from the University of Canberra, who has 30 years teaching experience in diverse teaching contexts including teacher education in Australia and overseas, HDR research training, teaching humanities, design technology, TESOL and academic literacy.
Comments from participants:
" I once again thank ATESOL ACT for organising another successful event from the comfort of our own homes. The continuous access to fabulous PLs each term, makes our membership very worthwhile. I look forward to the next one this Saturday 29th August – 'The Dictionary of Invisible Culture'."
"It was one of the best PLs because all the presentations were relevant, engaging and useful. it was good to meet other teachers in the break-out rooms."
"All presentations were excellent and mostly practical strategies for the classroom. If it wasn't practical it was interesting either way."
Click here to access the slides and recording from this event.
Report from Janica Morella, ATESOL Committee member
Photo Credit: https://pxhere.com/en/photo/783701 [Accessed 25 July 2020].
---
Supporting EAL/D learners remotely in an online environment: a workshop – 9 May 2020
How can digital tools be used to support EAL/D learner needs?
How can face-to-face content be adapted for the online environment?
On Saturday 9th May ATESOL ACT held an important PL session for teachers in the COVID-19 environment of 2020 – Supporting EAL/D learners remotely in an online environment: A Workshop. The event was a huge success with over 80 people registered to participate. It was great to see participants coming not only from the ACT, but from NSW and as far as QLD!
The event consisted of excellent presentations from ATESOL ACT members and special guest Sam Chrzczonowicz.
Sam is an experienced EALD teacher in the ACT Education Directorate having taught in NSW and ACT schools for the last 20 years. She is highly regarded as a mentor, having received a UC mentoring teacher award and shared EALD best practice at TQI and ALEA events. Currently Sam is working as an Assistant Director of EALD in the Universal School Support branch of the in the Education Directorate. Sam is a passionate advocate for building successful learning opportunities to support EALD learners and shares an enthusiasm for coaching, mentoring and teaching with all who work with adults and children learning English as an additional language or dialect.
Sam's talk entitled "Practical applications of digital classrooms for EAL/D learners" delved into the considerations that need to be taken when making the adjustments so that students can access the curriculum. Sam stated that scaffolding language and content to make learning accessible is paramount as learning moves online. To achieve this Sam mentioned an excellent activity in which students: first read a book with their parent/carer; then record a video retelling what happened in the beginning, middle and end of the story; and, upload the video to the online classroom environment. This not only provides opportunities to practise English but ensures that learning is a conversation.
Another excellent presentation was from Mali Wijesundara. Mali presented how to use the Google site package as a resource bank for students. Google is a live environment which enables teachers to add content along the way and hide pages being developed from the published content.
The session provided a thorough overview, applicable to a range of contexts of how educators can develop and share resources, learning tasks and activities in a streamlined, one stop collated space. The resources and platform shared presented a number of options for making remote learning less complicated for the learner. Mali shared practical examples of how to use these resources to manage course content for all learners. Some challenges of remote learning explored in this session included: not having face to face interaction and communication time to practice English; and, a lack of opportunity for instant feedback.
Lesley Cioccarelli's presentation focused on supporting EAL/D learners with VoiceThread. Lesley showed how Voice Thread can be used for language learning and to enhance engagement with EAL/D learners of any age. It provides flexible and diverse options for communication activities with learners. Learners can see the teacher's face and hear their voice. The content can be designed flexibly to meet the context and the students' needs. It provides opportunities for learners to practise language. It works on a range of platforms, e.g. PC, phone, iPad. Comments and feedback can be provided privately to the student. There is a free version, but it is limited to 5 voice threads. The single educator licence is available for US$79 (schools) / US$99 (HE). This licence allows the owner to create and set up 50 student accounts.
The event was a huge success and participants said they loved the convenience of the session being held via Zoom, and would love to see more events held like this one!
The resources shared by presenters have been collated in this folder on Google Drive:
Check the SCHEDULE (Document 0) to find the correct session.
The Zoom CHAT from the session is also there (second last in the folder)
And the RECORDING of the session is in the last document in the folder, or click on the image below.
Photo: A School of the Air primary student in regional Queensland takes class via two way radio, c 1960,
Queensland State Archives, Digital Image ID 2986]
---
Virtual tour of the National Portrait Gallery – images to support your teaching – 23 April 2020
ATESOL ACT was privileged to be the first group to experience our National Portrait Gallery's first virtual tour (on Zoom). What a huge success! Thank you to the Gallery for organising such a wonderful experience for teachers during this remote learning time. Special thanks to Robert at the NPG for being our technical guru. Leigh, our virtual leader, an enthusiastic and knowledgeable member, shared beautiful and interesting portraits, engaging us with story and questions that we could share with our students.
Use the following link to access all the beautiful portraits and their background stories, as well as many other online and interactive resources: portrait.gov.au/content/education/
And see below for detailed notes on the images, stories and ideas shared in the session.
As we discovered, the portraits can be used to explore the following themes for all ages and learners, including our EALD students:
life stories
story telling
photographic methods
portrait stories: video interviews with sitters and the artists
identity
multiculturalism
diversity
faith
literacy learning.
I highly recommend the virtual tours!
Report from Janica Morella, ATESOL Committee member and organiser of this Event
Here are some comments from participants:
The connections that were made between the gallery/art and EAL learners- hearing the ideas for learning tasks and using examples from the artwork to elicit/use/practice simple vocab was wonderful.
The teaching strategies shared with Leigh but also the audience were very useful
I don't have my own class at the moment but this has me itching to get back into the classroom and try out some engaging visual arts approaches. I will recommend this and share some ideas with my colleagues.
I will use this with pre-service TESOL teachers and encourage them to come up with ways to link this to their planning and to the curricula they are working with.
Run more of these pls! And will definitely 'steal' this idea and see if other galleries could run similar ones for our EALD networks etc. here in Sydney. Thanks team!
I appreciate the effort the gallery made to contribute to remote learning at this time.
It would be good to know how much it costs to take students on a remote tour. Often the cost of excursions (where you have to pay for transport and entry fees) means that it is prohibitive for families with more than one child, perhaps this format would make the art more accessible.
Thank you for organising. What an excellent event and a real credit to the NPG and ATESOL ACT. Very accessible in terms of technology, content and communication. So interesting, learning about the portraits and discussing teaching ideas was far better than my last visit to the gallery. I hope this continues for teachers around the country (around the world) in the future!
NOTES FROM THE EVENT

We've collated some notes from the session, which include:

Possible themes to explore with each picture
Descriptions
Points for teaching and discussion
Activities
Suggested routine for looking at portraits
Links to other NPG resources

Click on the heading above or the image to the left to download the notes.
If you would like to organise your own virtual tour for your class, the Gallery can cater for your specific learning goals. Email them at booking@npg.gov.au or info@npg.gov.au or refer to their website portrait.gov.au
---
2020 Annual General Meeting – 19 March 2020
The AGM this year was meant to be held at the National Portrait Gallery following a professional learning event, a tour of the NPG collection on the theme of Identity [*]. But due to the mounting COVID-19 restrictions on public gatherings at the time, the NPG tour had to be cancelled, and the ATESOL ACT Committee hastily reorganised the AGM to be held online via Zoom.
Fifteen members attended and voted in a new Committee for 2020, and passed a motion on 'Proposed changes to membership fees – Early Bird'
That ATESOL ACT membership fees be changed to include an Early Bird discount of 10 percent for all membership categories, available from 1 December of the previous membership year to 31 January of the current membership year.
Outgoing President Bronwyn Singh presented her report for 2019, which you can read here: ATESOL ACT 2020 AGM President's Report.
You can read about the new office bearers and Committee members for 2020 in the ATESOL ACT April 2020 Newsletter.
[* The planned tour of the National Portrait has now been scheduled as a virtual tour – see details here: Virtual tour of the National Portrait Gallery – images to support your teaching – April 2020 ]
---
Term 4 2019 Meet & Greet – 22 November 2019
We ended 2019 with a social/networking event for anyone who teaches English to speakers of other languages in the ACT. This was held at EQ Cafe in Deakin.
---
Multilingual Storyboxes – 2 November 2019
Presented by Dr Gill Pennington, EAL/D Consultant, NSW
Gill Pennington enthusiastically shared with a group of teachers in Canberra some wonderful and insightful ways of teaching language through story. The 'power of stories' helps all of our students, particularly our EAL/D learners, to better understand our world and the human interactions that take place in our different contexts:
Development of family stories
National and cultural myths and histories passed on over time
Religious practices and beliefs
Gill shared some very practical teaching strategies, giving reference to 'hot' books that exemplify not only rich literature that link to the Australian Curriculum, but ensuring the inclusion of the many cultural and multilingual children in our classrooms.
She highlighted and gave examples of the 6 ways stories connect with EAL/D pedagogy:
Links to prior skills and understandings
A focus on oral interaction
Designed and contingent scaffolding
Explicit language teaching
Message abundancy
Rich tasks – bringing it all together
Gill was able to show us how 'Building a Storybox' can be a powerful, engaging and interactive way for students to share their stories, while making new connections and building upon their English language ability. This can be a wonderful, shared resource amongst classrooms and schools, promoting opportunities for cohesion amongst cultures; encouraging a learning environment that is safe, fun and engaging. Ultimately, in the inclusive classroom, we want all of our students to feel that they belong and have the self-confidence to interact with their teachers and peers successfully.
Session report by Janica Morella
If you wish to learn or know more, please refer to Gill's slides…
Multilingual Storyboxes – slides
This PL was accredited for 3 hours of professional learning with TQI using the following Australian Professional Standards for Teachers:

Professional Knowledge 1.3
Professional Practice: 3.4
Professional Engagement: 6.2, 6. 4
---
Using the Certificates of Spoken and Written English (CSWE) – two interactive workshops – 25 Oct & 1 Nov 2019
Presented by Darren Curl, AMEP SEE Coordinator TAFE NSW
Darren Curl from TAFE NSW, one of the writers of the 2018 Certificates of Spoken and Written English (CSWE) curriculum, led participants in a two session workshop to help us understand the intricacies of the new CSWE.
In session 1, he provided an overview of the many stakeholders that influence how the CSWE is written. We were able to understand :
how the Certificates fit into a framework dictated by the AQF ( Australian Qualifications Framework) – an influence that extended to the use of the word "basic" in many of the units; and the hours of learning expected in each level
why the ISLPR was adjusted up to match the skills expected of students in each Certificate level
how ASQA ( Australian Skills Quality Authority) ) and the VET sector require a work focus for all courses, and non duplication of any other available course.
the tight time frames involved in submitting a course to ASQA
Session 2 provided us with the opportunity to revisit the unpacking of a unit so that our teaching cycle was sure to include all requirements from the unit; sufficiency in the knowledge evidence could be twice in one task or twice across 2 of the tasks but not required in each task.
Our Q&A session addressed many questions including:
some of the intricacies and puzzles in the wordings
the use of "approximately", giving room for teachers to use reasonable judgement to extend some performance evidence boundaries.
competency can be demonstrated over a couple of tasks for each text type
class performance, if documented, can provide evidence for performance criteria.
CSWE evidence valid while student is enrolled in the course.
We agreed that it was a limitation that the new curriculum was not better supported with exemplar tasks and textbook support due to a change in the funding model. If you have comments about the new curriculum, your local TESOL association is the place to go to have these collated for national advocacy for a better solution for ESOL students.
Session report by Jakki Cashman
Download Darren's slides:
Understanding CSWE 2018 – ATESOL ACT Training
Video recording of Workshop 1:
Video recording of Workshop 2:
[Photo source: Gemma Watson, Sunshine Coast Daily 17/07/16]
---
Learning Progressions and EAL/D Education – 14 September 2019
Margaret Turnbull, Principal Policy Analyst at the Centre for Education Statistics and Evaluation in NSW, travelled to Canberra to share her expertise in EAL/D learning progressions, including the ACARA EAL/D and Literacy Learning Progressions and the NSW ESL Scales. She led a lively interactive workshop in which participants examined, compared and applied these progressions. It was a well-attended session, with over 30 attendees representing government, independent and Catholic school sectors.
Margaret also shared an example of a bilingual assessment used to highlight the strengths of kindergarten EAL/D students, and a translanguaging unit of work which culminated in primary students holding an art exhibition.
Margaret's message for EAL/D teachers is that the progressions can work together to give us information about our students – what the student knows, and what to focus on in teaching. Ultimately though, it is our EAL/D teaching expertise that guides us in how to apply this information in the classroom.
– Summary by Mei French
Download Margaret's slides:
Learning Progressions and EAL/D Education ATESOL ACT Sept 2019
Photos from session – click on thumbnail to view large photos:
Invalid Displayed Gallery
---
ATESOL ACT Annual Dinner 2019
ATESOL ACT's dinner for 2019 was held on Friday 30th August at The Duxton in O'Connor.
Our guest speaker was Dorothy Hoddinott AO, Presiding Pro-Chancellor, University of Sydney, 2014 Recipient, Australian Human Rights Medal and Former Principal of Holroyd High School.
Dorothy shared sage words of wisdom from her wealth of experience working with and advocating for EAL learners.
---
2019 Annual General Meeting – 11 May
The 2019 Annual General Meeting was held on Saturday 11th May.
New office holders and Committee members were elected for 2019.
President Bronwyn Singh presented her report for 2018, which you can read here: ATESOL ACT 2019 AGM President's Report.
---
Leading EAL/D Professional Learning Within Schools – 11 May 2019
At this professional learning event, Dr Mei French provided an example of a whole-school EAL/D professional learning program and lead participants in developing an EAL/D professional learning plan for their own context.
---
Term 1 2019 Meet & Greet – 15 March 2019
We kicked off 2019 with a social/networking event for anyone who teaches English to speakers of other languages in the ACT. This was held at The Duxton in O'Connor.